July 10, 2017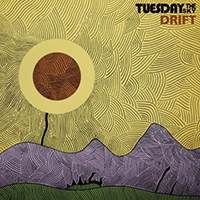 Thoughtful and wise, Today the Sky begins an album of atmospheric instrumental compositions Tuesday The Sky (Jim Matheos) - Drift '2017 with restrained melodies that unite memories with a strong chain of connecting events. At first, the scratch of the vinyl "plate" recreates the atmosphere of memories of the past, starting and completing the composition.
That track brings a little bit anxiety into reflections, Kite creates an atmosphere of cautious expectation, enveloped in a haze of restrained distrust.
The calm enigmatic melodies with mysterious, incomprehensible lady that chants something without words ask mysterious riddle at Vortex Street, the answer to which can only be found if the question ecomes clear itself.
The noise of the surf rolls It Comes in Waves, breaking about the shore - but, having receded, the waves again rush to storm the hardened rock. In such sweeping the composition creates a confident, persistent and fascinating atmosphere.
The evening trills of crickets, a calm, pacified, restrained melody is stretched by a long, uncertain entry in which thunder and distant noise give anxiety to the coming changes. In the same restrained, muffled atmosphere, in addition to the cosmic, unconventional instrumental passages, the whole Dyatlov Pass composition sounds.
A reassuring romantic ballad gives wise calmness, a restrained confidence in the future, moreover - in all future, based on memories of native lands, that still so Far and Away from here.
Once again, a mysterious lady creates melodious riddle Westerlies without any word. The song sometimes sweeps the instrumental gust with bright flashes of illumination, but again the tranquil chants of the invisible fairy will pacify instrumental emotions.
Talks of pilots with the center of flights bring in Roger, Gordo atmosphere of unbiased anxiety, concern about lost opportunities and hope for the best completion of the situation.
Dull, gloomy and restrained melodies of The Rowing Endeth creates atmosphere of great wisdom, the deep knowledge of which does not allow you to leave the usual shores, encumbering the burden of deep comprehensive knowledge.
The title track Drift crowns the album with its own motives, conveying anxiety and hope in single musical stream, slipping through dreams and imagination, into the expanses of amazing cosmic fantasies and unrequited, inconspicuous and unprecedented images.