October 12, 2021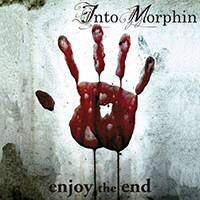 he harsh musical atmosphere of the CollapseT song begins the musical narration of the Into Morphin - Enjoy The End album with a unhurried processing of a battle march. The Sodomize Him composition does not retreat in vocal severity, alternating growling and screaming in the vocal part. The Last Breath is sympathetic and saturated, continuing with romantic mystery.
The melodic thought of the guitar suspension continues the rhythmic procession of the Once Again song. The End At All explodes by the unsophisticated rapidness of an unrestrained musical thriller. The vocals appear on the forefront of the musical image of the Destroy song, the fierce and sealing sound, accusing the charming energies of the oriental or Aztec motifs.
The sound of the My Own Eden main motive is fascinated in the expanses of feelings and memories, then binding music and vocals in a single stream. The Second Bloody Birth begins solo bass guitar, then feeding vocal reflections. 9th immediately puts forward the vocal party to the forefront of the musical image, The Forbidden Tree vocals part goes to the fore, rolling the waves of a harsh drive in the alternation of screminging and growling. The Enjoy The End completes the album with the usual vocal dispute.