November 08, 2016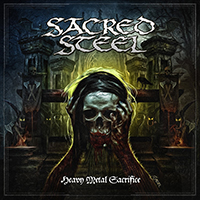 To anyone not inclined, let us give honor and praise to our god, having made Sacred Steel - Heavy Metal Sacrifice !
(Intro) Glory Ride solemn and epic starts this fairy tale, confident in the heroic manner.
Powerful pressure, not stopping at nothing heroes squad strives for the Heavy Metal Sacrifice to pay tribute to honor their idols.
Guitar riff intro circling around us like whirlwind of heavy atmosphere, enveloping us with viscous and sweet motifs of The Sign Of The Skull lyrical ballad.
Tireless epic motifs ascends Hail The Godz Of War to the heavens, where the invisible and unknown, but influencing every little thing in life with their fast imperceptible movements.
Romantic acoustic break starts Vulture Priest tale, turns in the tireless insistent rhythmic motif, that hammers pillars of its structure in the mind of every hearkeneth to adept.
Quickly and easily flying on the wings Children Of The Sky but pleasant lightness gives way, challenges that soak up hardships, caused by noise of envious persons and detractors.
The power and uncompromising fighting spirit represents Let There Be Steel ntensely and fiercely advancing on its way, radiating confidence - being replaced by a dreamy soliloquy in the chorus. Then comes rest stop, to disclose inspired lyrical guitar solo, followed by emotional confession quiet and light vocals. But - the fight proceeds again and again!
Viscous, thrilling rumble slowly and persistently tells that Chaos Unleashed so halcyon days completed, this ballad powerfully and persistently reaches every nook of consciousness.
Fierce resistance, people screaming The Dead Walk The Earth, then fast and furious verse gives way to nervous slow impressive chorus that full of despair.
The calm, romantic and emotional ballad Beyond The Gates Of Nineveh its melodic and clear motives closer to the end of this saga, bringing its sublime melodies saga closer to the end. Legends have completed in the inn with Iron Donkey.