June 21, 2018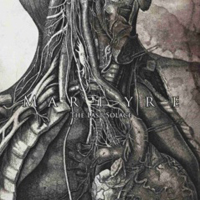 Acoustic guitar passages cry out to the dull lyrical tunes of the invisible fairy, revealing the beginning of the Martyre - The Last Solace album with a brief romantic ballad Solace, continuing into the introduction of the next song Soma to Morfo, developing the melody to a majestic hymn with an unforgettable melody. After a leisurely and enchanting introduction, the vocal begins with thoughtful experiences, removing the majestic passages of the main motif, returning in bridges and choruses.
The music becomes denser and carries away the sad melody in the rhythmic flow, the Submissive (You) vocal party is dominated by a sorrowful clear voice, the vague phrases of the growling complement his experiences in the choruses.
Soft, leisurely musical passages complements muffled vocal experiences, then the music concentrates in a brooding march, rolling in dense and elastic rhythmic waves in the instrumental bridge, ending with thoughtful romantic reflections. The alternation of such fragments constitutes this Dissociate composition.
Rolling out the majestic melody, Attachment appears as a leisurely display of a dark celebration, slowly unrolling the fascinating canvas of the instrumental entry. Then the vocals artistically introduces its artistic connotation, insinuatingly weaving our reflections with fascinating keyboard and guitar motifs.
In SomneAfter the romantic experiences of the pensive one carries away in a raging stream of dark drive, supplementing the album with a dense rhythmic track, enticing into the dark whirlpools, confusing mysterious vocal emotions.
The piano performs the solo, appealing to unforgettable experiences, woven together with the acoustic guitar part, presenting an instrumental introduction Isolation to the composition that completes the album My Remembrance with the development of a melody started in an acoustic soft form. The vocal part shows a duet of female and male vocals, at first the male vocals create only a background, then complement the sound with the gloomy growling.