February 19, 2017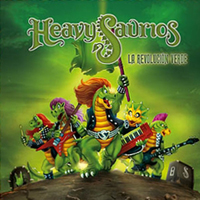 Have fun, driving, rhythmic HeavySaurios - La Revolucion Verde getting what they want! !
In the dance rhythm, shuddering and violently Ninos Del Metal makes symphonic notes in its humorous story.
From the sound of charges, El Caballo De Komppi splash explodes frills vocal and instrumental bursts. Drive, melodica, cardinality! ALL! Heavy Disco starts with perfect intro, then the lady-saurios takes the prime role, from time to time admitting the other instruments and voices to her primacy.
Oink-oink - El Rey Del Bosque De Hongos then artistic beautiful sounds are combines with - oink-oink? nervousness and anger of unmet pigs!
After unfed pigs, unsatisfied ladies and imperfect world beautiful ballad Luz De Noche smooths the awkwardness of its lyrics sound. Dance! To get drunk! dance 'till El Baile De Los Duendes takes our energy here for the sake of their goals.
The ragged rhythm lasts for Acelera Hacia El Metal - race nerves rivalry. Police edrenalin - tear, relocate and break down!
Tough, powerful, zealous Armadasauria sets its own rules, but in symphonic and sonorous manner.
Sad wistful ballad Mi Mamut returns melodies to its dark symphonic and sublime sound.
Nearly! The title! Almost! The title Hey! Heavysaurios presses screaming crowd, crushing and seducing any opposition to their deeds! Do not interfere - it's Heavysaurios! One more time - forever and ever!