January 23, 2017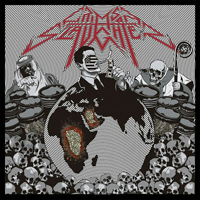 The power and rage cause issues? let you will call Crimson Slaughter - Cycle Of Decay for al of the questioning!
The fierce, scorching and hot intro Combat Formations with its extraordinary guitar passages adjusts to the perception of the ... Endless War demolishing the thoughts of crazy motif, separating the mind from the body in one fell swoop of mad axe! But separated head also requires words - Argh!
Flies not dwelling on the wings of the consciousness, it was Buried Beneath The State fierce, powerful and unrestrained continues it's story!
Dead Walk Again without pausing before any obstacle, vocals hardens its sound with the tough fury!
But furious thoughts dissatisfied now, anger and rage tears out, spilling into Bred To Obey. But furious uncompleashed thoughts, anger and rage tear out, spilling into thoughtful and lucid thinking, leaving aside the delicacy and tact! After a gentle, thoughtful and tactful intro Wretch God rages and angerly breaks barriers and render itself at the forefront!
The power and fury is not looking for excuses, their place on the Battlefields! Furious tough sound accomplish it with confident promotion!
Evil thoughts and anticipate stressful perceptions and feelings causes Kill Of Be Killed! Fast anger calls to pensive bridge, revealing all of the secrets.
Fury and rage will not tolerate delays, be ready for the My Fist, Your Face, ... stupid guy! Powerful and furious riffs will not tolerate the slightest doubt, Punisher with his activities does not feel any doubt or regret. Don't believe him - ask for once!