April 22, 2017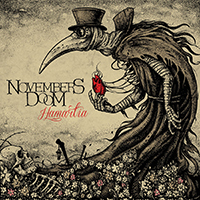 The violent narrative continues in thoughtful stories of the November's Doom - Hamartia that captivate his narrative tales to listen to the end !
Tough, unbiased and furiously vocal phrases will make the narration of the Devils Light forerunner of the foundations and requirements. In any way, nothing else! Clear, confident, unsurpassed clean viscous vocals continues its Plague Bird history, musical decisions continue it, only enveloping with their musical delights.
Tough, clear, exciting, purposefully invested in a mysterious stor of the Ghost elancholic history paves the impenetrable fog of the Ever After, then proceeding in an eerie narrative, not being honored in a terrible affliction nor facing a single obstacle.
The changing complex Hamartia story breaks in the impulsiveness of the emotional tragedy, refracting and changing Hard growling requires a place on the forefront, demanding attention powerfully and fiercely trying out Apostasy its unavailable opportunities.
Power, fury and changeable motive appeal, but Miasma turns into a thoughtful dreamy narrative, combining female and male vocals, then supplementing the vocals with the fury of musical rabies.
Musical whirlwinds os Zephyr combines in a mysterious stumbling, vocal parts - pure baritone and tenor, alternate with furious and viscous growling, music remains in so vague and dreamy atmosphere.
Tough, clear and furiously starting, Waves In The Red Cloth continues in a thoughtful and progressive manner, captivating in a thoughtful limit and a special dream ... but the powerful blow sets the rhythmic step, again and again! Romantic, thoughtful and dreamy Borderline completes the album. Cleak and gracefully vocals, calm dreamy stories - that's the lyrics all the signs!