June 10, 2021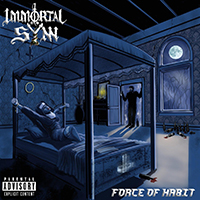 A soft guitar solo begins the melodic sound of the Anamnesis composition, which combines the stubborn rebelliousness of vocal phrases in combination with a restrained musical drive. The Fight The Prince song starts with epic mystery, bringing echoes of ancient legends and fairy tales to the Immortal Synn - Force Of Habit album's sound.
The argument of friends after the celebrations in the tavern continues with echoes of spicy southern motives and the pulsating persistence of the F.U.D.C. rhythmic drive. The Ballad Of Marvin Heemeyer rolls in musical waves of mid-tempo drive, anticipating the introduction of vocals by accelerating the tempo of the musical essence. The Mailman Song rebellious curses, succinctly and playfully set the mood of the bitter musical narration and the vocal fury of the Nuclear Terror song.
The Satan's Tavern epic tale is combined with musical pressure and an emotional uplift of the vocal part mood, alternating and combining different tonalities of vocal transformations. The instrumental part of the composition clearly shows the echoes of Irish folklore. The sound of the Denver Nights composition captivates with unrestrained waves of driving frenzy, then continuing the musical festival with peculiar echoes of country-style in the Force Of Habit title track. The Whiskey II: The Wrath Of Corn song completes the album's sound by combining southern rock and hard rock in a captivating musical tale.