December 14, 2021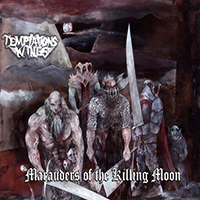 The intro's guitar solo captivates with echoes of epic sagas and legends of heroic ancient Warlords, their exploits and victories in battles. After an impetuously pushy intro, the Silent Assassin song continues the Temptations Wings - Marauders Of The Killing Moon album's musical narrative with swirling driving guitar riffs that wind around the vocal story narrated by the storyteller.
The noise of bad weather, thunder and rain, and the ringing of the bell act as an introduction to the Altar Of Sabbath twilight dark tale, marching grievously along its chosen musical path. The Sea Of Woe composition extends the stylistic framework of the album by adding mystical or oriental motifs. But then the vocals take over the dominant role in the musical image, supported by harsh and drawn-out guitar riffs.
The instrumental ballad Cosmos brings some peace and dispels anxiety in the romantic introduction, then thickens the sound and raises a bright flash of guitar solo, serving as an introduction to the composition that follows, Shadow Of The Moon, in which the instrumental romanticism is complemented by mystical ambience and vocal revelations.
Softly and mysteriously beginning with the chime of the bardic ballad strings, the Child Of The Mountain song with the vocal intro continues the same atmosphere of medieval fairy tales, leaving the background chime of the intro guitar strings as the leitmotif of the composition. But then the vocals transform into epic proclamations of the valiant saga, returning to the bard song again in the Walk In The Woods final guitar solo.