June 20, 2016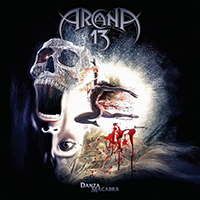 Reaper will be a pair of Death in the Arcana 13 - Danza Macabra.
Dread Ritual viscous, ductile sounds, pulling the mind in the depths of nervousness and doubt. The psyche is affected by repetitive riffs and keyboard passages, blowing sense beyond the clouds. Odd, frightening scream ends the song.
Melodic, haunting riff, accompanied by a mysterious illegible whisper begins Arcane XIII. Leisurely vocals entangled variative guitar riffs and keyboard passages leads his story in verse. The chorus returns to the haunting riff of entry.
Rhythmically, accented starts Land of Revenge further continues as a sad, sorrowful, melancholic ballad, in which guitars and keyboards do not dispel the sadness, on the contrary saturate the atmosphere gloomy expectations of future. tragedies.
Crushing, forceful riff burden in entry of the Oblivion Mushroom. Then the music calms down for a bit, supporting dreamy vocals that diffluent around.
Suspiria ("Goblin" cover),dreamy, sublime guitar passage, followed by humming a melody and buzzing accompany throughout the instrumental composition.
Buzz and the riff in the entry complement each other in a single burstBlackmaster. When vocals joins music accelerates its pace, but guitars doesn't stop to buzz by its strings so continues squeeze on the mind.In the middle, a woman's voice saying something in Italian before the instrumental solo. Chorus completes this mysterious track.
Bass guitar starts, guitar accelerates the song tempo of The Holy Cult of Suicide. With the beginning of vocals samples and keyboards come to the fore, guitars leads rhythm and create the background.
Exalted, lyrical riff opens the intro of Hell Behind You. With the introduction of vocal that riff becomes silent, hiding in anticipation of the bridge. But another riff comes to the fore during the bridge, in the environment of drum breaks and drum solo. But at the end of this song and the entire album the riff to seize upon the leading role, as well!