September 14, 2020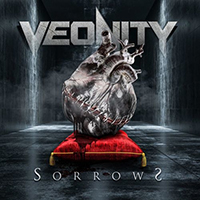 The brooding instrumental symphony Broken delivers the majestic opening of the Veonity - Sorrows albom, combining violin crying with keyboard reverie and introducing the swift whirlwind of drive of the Graced or Damned song, in which the whirlwind of drive of the intro then recedes before the symphonic ambience of the mid-tempo procession of the majestic anthem.
The vocal monologue, entwined with the sparkling chime of the keyboard passages, sets the mood of the Back in to the Dark introduction, which marks the transition to the main motive with a drum roll. The brooding intrigue of the guitar solo anticipates a rapid race of the Blinded Eyes Will See composition, complemented by the influence of modern understandings of the musical genre. But retaining the influence of tradition in the previous composition, the Where Our Memories Used to Grow returns to the origins of power metal with symphonic influence and epic atmosphere. Maintaining the same adherence to tradition, the Acceptance restrains the swiftness of the tempo, hardening and making the sound heavier, crowned with symphonic melody.
The battle whirlwinds of the introduction seem to echo the battle, but then the vocal narration, along with the Free Again pulsating battle march, delivers a hopeful mood. The Center of the Storm continues the rhythmic mood of the austere procession, complementing it with the veils of symphonic artistry. Combining melody and drive in a mesmerizing unity, the War song takes you to a march on the verge of rhythmic tempo variations, starting the vocal part with fierce harsh vocals. The Fear of Being Alive concludes the album with an inspiring saga, bringing ballad notes and vocal charm to the accelerating pace of musical narration.