August 25, 2022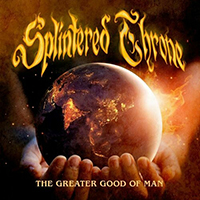 The rapid drive of the main motif bursts with an uncontrollable flight, crowned with sparkling emotions of vocal reflections on the expanses of the Splintered Throne - The Greater Good Of Man album, captivating the unity of musical variations in the sound of The Reaper Is Calling composition. The introduction of The Crossing epic tale creates an atmosphere of battle sagas and medieval knightly legends, but then the music and vocals bring a joint unity in the embodiment of this combination.
Rolling waves of rhythmic steps of the battle march in the intro of the Morning Star Rising composition is transformed into a pensive atmosphere of a romantic ballad with the introduction of vocals, then combining these elements in the chorus. The Greater Good Of Man album's title track weaves a lace of sparkling playfulness with a desire for adventure in an exciting stream of music.
The main motif immediately sets the rhythmic step of the sound of the Let It Rain song, then crowning the musical bursts with vocal phrases with notes and shades of inspiration and support. The Let It Rain romantic ballad brings a romantic atmosphere and sensual experiences to the album.
After the intriguing twilight of the intro, the music and vocals burst into this mystery as a joint assault, creating a hopeful mood of the sound of the Night Of The Heathens composition in a mystical atmosphere, anticipating the combative mood of the sound of the Time Stands Still saga, continuing the epic atmosphere of the musical narrative with the dominant meaning of the vocal storyteller. The re-mastering of the previous musical artwork, Immortal 2020 (Remastered), concludes the album with a mesmerizing anthem of an impressive ballad.