June 07, 2021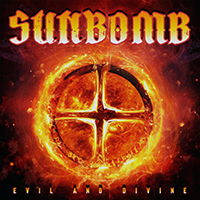 Wrapped in twilight and mystical mystery, the intro guitar solo reveals the essence of the Life leitmotif, then the vocal part rises to the top of the sound. The Take Me Away composition further develops the dusky mystery of the dark tale, moving slowly and carefully through the ghostly twilight of the abandoned catacombs in the development of the musical story of the Sunbomb (USA) - Evil and Divine album.
Beginning with unhurried meditations in the mystery of anticipation of continued adventures, the Better End song explodes with a burst of furious drive before the main vocal enters, then completing the musical narrative with vocal emotionality. Once again, the No Tomorrows intro sets the leitmotif with a guitar solo, bringing in echoes of epic sagas. Reflections at the beginning culminates in a whirlwind of furious drive, returning to the mid-tempo march of the Born to Win chorus. The Evil and Divine track continues in a similar stylistic manner, but somewhat subduing the insistent drive of the verse.
The acoustic sound of the Been Said and Done ballad is enchanting and mesmerizing. A whirlwind of mid-tempo musical pacing with echoes of southern rock complete the vocal meditations, combining together in the sound of the Stronger Than Before Wave song.
Rolling in waves of persistent drive, the Story of the Blind track then brings the vocal part to the forefront of the musical image. Viscously and draughtily the World Gone Wrong song marches through the gloom of mystery, creating the musical embodiment of a grievous ballad. A whirlwind of bright guitar solos in the intro sets the direction of the bright drive of the They Fought album's final composition.