July 26, 2020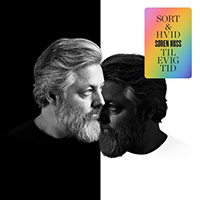 The dreamy intrigue of the En Smeltet Kaktus I En Vestvendt Vindueskarm sound of vocal reflections begins the Søren Huss - Sort Og Hvid Til Evig Tid album with an intriguing mystery, bringing the vocal part to the forefront of the musical image and complementing the unity of vocals and keyboard notes with backing vocals. The union of the primary and dominant stream of male vocals into union with female vocals enchants with the romantic pensiveness of the Postkort vocal part.
As if discarding the time difference, the Entreprenor seems to return to the days of youth and youth, complementing vocal experiences with the chime of an acoustic guitar. The Romantikerens Kile vocals lead the main thread of the narrative, overpaying in dance with the bewitching romanticism of musical motifs up to emotional tremors. The piano solo intro sets the direction of the Blaendvaerk main motive, then intertwining music and vocals in a mournful symphonic waltz, complementing the main vocal melodies with sad appeals from the male vocal.
Dispelling sadness and bringing peace to the homeland, the Vekseleren musical peace complements vocal concentration. Romantic pensiveness of the Sort Og Hvid Til Evig Tid title track and Fra Stovfang Til Rodcompletes the album.