August 22, 2019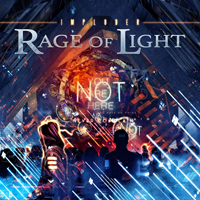 xStarting the Light composition with the sacrament of disco motifs, it then weaves a vocal whisper into the musical image, then Enraged weaves the emotional mystery of reflection into the musical image, interwoven with the sensual passages of symphonic metal. Then the sensual reflections of clean vocals are supplemented by the violent waves of demonic female screaming, which from time to time are supplemented by male growling, revealing the true essence of the Rage Of Light - Imploder (Limited Edition) album.
Exploding in waves of a pulsating drive Fallen intertwines the alternations of screaming and growling in the exciting dance of a musical thriller with a bewitching symphony. Inspired by a disco music motifs I Can, I Will in the verse is based on the emotional phrases of clean female vocals, exploding in the bridge with fierce screaming of the demoness, intertwining female screaming with male growling in the chorus. Away With You intertwines disco musical motifs with the trends of classical music, weaving a bewitching musical lace of a symphony, despising eras and difference of styles.
Turning to the trends of the legends of symphonic metal, In The Shadow enchants with bewitching romanticism, then Battlefront interlaces the whirlwind of musical passages of popular music with the painful meditations of keyboard and guitar impressions of melodic mystery.
The title track Imploder continues this intricate combination of contrasting musical styles with a bewitching instrumental anthem. The fascinating motifs of symphonies, intertwined with modern musical trends, are intertwined into the sound of the Mechanicals composition based on the reflections of clean female vocals, complemented by sharp demonic intersperses of screaming. Then Nothingness finishes the album with a charming symphony beginning with a bewitching violin solo that sets the direction for the development of the main motive.
But this edition of the album closes with a tribute to the legends of Viking Metal Twilight Of The Thunder God (Bonus Track) (Amon Amarth cover) - it should be noted that you can fully appreciate this song only by watching its video!