December 13, 2021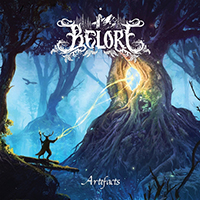 After a mesmerizing and thoughtful symphonic introduction, the Tale of a Knight composition begins the Belore - Artefacts album's musical narrative with melodic melody, complementing the musical symphony with inspired vocal screeching, returning again and again to the main motif in instrumental bridges.
A soft chime of melodic musical passages begins the sound of the Artefacts of Power song, then marching in solemn march, topped with vocal inspiration.
After an enchanting introduction, The Fall of Endeor composition marches on with the majestic sound of a solemn hymn, complementing the symphonic musical charm with inspired tunes of clean vocals.
After an intriguing introduction, the Moonstone song marches triumphantly, rolling in waves of rhythmic musical narrative, crowning these waves with ridges of vocal reflections with the preservation of melodic inspiration and at times retreating with musical proclamation from subdued vocals phrases, supplementing the sound with birdsong and folk tunes of the enchanting flute.
The violin's tunes slowly, carefully and deliberately pave the way for the development of the A New King for Therallas main motif, rolling in musical waves, topped with majestic musical reflections.
Rounding out the album with an epic musical saga, the Glorious Journey track emphasizes the peculiarities of its sound and matches its musical essence, completing it with musical and vocal variations inherent to its musical image.