September 24, 2021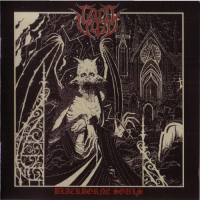 Vocal phrases begin the Lord Vigo - Blackborne Souls album's musical narrative with an elevated melodium, combining the depth and tempering of the male vocal with the Oh Mother Earth leisurely procession of thoughtful and gloomy musical variations. The When The Bloodlust Draws One Me song is rolling the harsh waves of a combat march, then wrapping their ridges with sparkling shades of vocals emotionality.
The saddened vocals phrases perform on the forefront of the Great City In The Sky musical image, combined with the dramatic mystery of the musical atmosphere. The Blackborne Souls title track begins the guitar solo defining the sound of a leitmotive, then continuing to the words of the vocal phrases, transforming vocal phrases, which summarize the background chorals.
The knocking knuckles of the gouring horse, the ringing of swords and the essay of the battle are completed by a monologue that reveals the essence of the profession and complete the entry of the Blasphemy gloomy musical composition. The pace of music is then somewhat accelerated, having a vocal batch to the top of the musical essence. The narration of the speaker tells about the essence of the Hail Me, Fire In The Night (Ishtar II) unexpected opening of the cosmic phenomenon, then the music rolls the waves of a restrained drive, whining the vocal narration of the storyboard by guitar riffs.
Twilight mysteriousness of the For Beeing Unknown music passages creates a mysterious musical atmosphere, through an unclear haze whom thoughtfully marching the full of alarms and experiences vocals party. Starting with the mysterious guitar solo, the Eternal Saviour composition completes the album epic procession of the musical procession.