March 19, 2020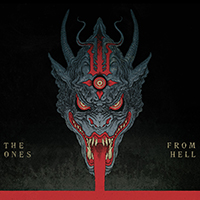 The soft acoustic passages of the guitar solo create an atmosphere of romantic mystery, but the music builds up power after an intriguing pause, with the introduction of Pure Hellfire vocals exploding with the fury of an unbridled drive entwined with tapes of epic echoes. Luciferian Sovranty as if continues the previous composition, weaving a bewitching unity of power and melody.
The title track of the Necrowretch - The Ones From Hell album brings to the forefront of the musical image a guitar solo, entwining the axis of the main motive and vocal phrases with vortices of its charm. Concluding the inspiration of the magnificent dusk, Absolute Evil captivates with an intriguing introductory ritual, ending with a pulsating medium-tempo musical narration of the instrumental composition, which completes the title song.
The majestic dusk of the Codex Obscuritas dark grandeur lifts the banners of a significant anthem, slowly and confidently walking along the chosen path. Preserving the twilight inspiration Darkness Supreme is somewhat accelerating the pace, preserving the majestic melody and staying on the verge of a mid-tempo narration.
The acoustic guitar solo envelops in a mysterious atmosphere of romantic inspiration, then enters the halls of the twilight narrative, raising the dark banners of musical inspiration of the Through The Black Abyss instrumental musical saga. Self-titled Necrowretch track continues the musical symphony, complementing it with the unbridled fury of vocal cries and the incredible speed of musical drive.