October 29, 2021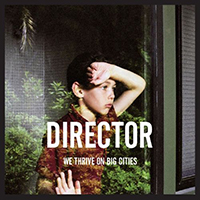 Vocal emotionality is raising the signs of meaningful appeals to the front of the sound of the Easy To Me song. The Standing In My Way continues the motives of the previous composition, a slightly transformation sound of the Director - We Thrive On Big Cities album with an inspired atmosphere shades.
Unhurried meditations of the Reconnect song is riding with the waves of rhythmic inspiration. Immediately withdrawing vocal phrases to the forefront of the musical image, the I Only Realise ballad enchants with a shades of romantic thoughtfulness.
The bright drive of the guitar solo of the She's Saying Things intro's chiming entry then contributes to the ascension of vocals inspiration. The Leave It To Me song combines muted guitar notes with a pensive development of vocal reflection, then falling in the bright the unity of musical artistry.
The folk motifs of the British country style give the sound of the Come With A Friend song fascinating originality. The Big Cities composition puts forward a vocal batch to the forefront of the musical image, then complementing vocal reflections with rhythmic musical ripples. The Can You Take It track combines vocal inspiration with a rebellious musical style, bringing the shades of rock punk into the sound of the album. The Never Know song completes the musical narration of the interlaced lounge.