January 03, 2020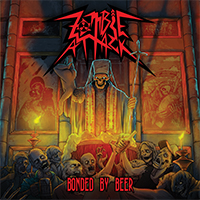 The pulsating instrumental passages of Intro are the introduction of the Zombie Attack - Bonded By Beer album, preparing for the unbridled drive of the title track, entangling vocal phrases in a whirlwind of guitar riffs, captivating the rampant fun in the tavern, raising swords of mugs and shields of goblets over their heads.
But unbridled fun, reckless detachment and drunken intoxication leads to the manifestation of evil devils - Hell Satan's Command is manifested in the bar festival. Naturally, such specific units have their own culinary tricks - for example, they are always ready to cook the Satanic Barbeque for the public.
The musical drive intertwines as The Beast in an unbridled dance with vocal phrases, intertwining their combinations with the chime of guitar solos. Anarchy 666 continues the rapid drive, more evenly and rhythmically following the path of the main motive. More fiercely and variably building a musical component, the Virtual Reality composition more mysteriously and intriguingly prepares for the development of an unrestrained musical thriller.
Forcing the waves of an even more energetic drive, the waves of musical passages drive the Slave Doll vocal part to unbridled swiftness. However, the vocal part finds strength and energy in itself - going to the forefront of the musical narration of the Hit The Road song. Echoes of southern rock motifs appear in the instrumental solo, continuing to envelop the sound of the next song Apocalyptic Rock'n'roll with some trends of their style, hardly having time for the rampant rhythmic vocal urges. Non Serviam completes the album, bringing vocals to a dominant position and crowning vocal phrases with trends of musical passages.