February 17, 2021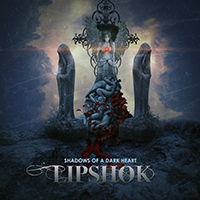 Symphonic pensiveness ends with an explosion of musical drive, receding into the shadows before the pressure of the Answer the Call vocals romanticism of the singing lady. The Don't Fear Defeat vocals proclamations of female vocals appeal to hope, then sparkling keyboard passages of musical artistry continue the Lipshok - Shadows of a Dark Heart album's musical narration with a wistful ballad.
Beginning with the soft chimes of acoustic guitar and keyboard symphony with wistful vocal reflections, the Looking Glass then weaves a musical lace into a captivating ballad from those premises. Vocal reflections entwine the Without a Flame symphony's musical motives with orchestral artistry, combined in omens of majestic melodicism.
The bass guitar accentuates its importance, setting the solo path of the And so He'll Fly intro procession, then marching into the base of the leitmotif, crowned with vocal experiences and waves of drum drive, entwined with sparkling guitar solos. After intriguing anticipation and romantic keyboard pulsations, the vocals come to the fore in the musical image of the epic Alive Once More saga.
Mid-tempo musical pulsations roll in waves of persistent march, crowned with the artistry of keyboard motifs, retreating in front of the vocal pressure that raises the banners of melody and accentuates the title of the Revenge composition in the chorus. The Unknown song ends the album with a romantic atmosphere of gentle ballad, full of sensuality of vocal inspiration and soft artistry of musical variations.