September 27, 2016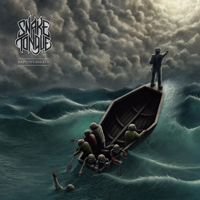 Different ideas are flooding my mind contradictory thoughts, but Snake Tongue - Raptor's Breath leaves us with a hope!
Strong mighty intro begins the title track Raptor's Breath, followed by powerfull riffs, that manage to knock and carried away by unrestrained listening to its stories. Composition ends rhythmic with main riff's mighty carcass rolling!
Briefly, but unstable and powerfuly next track carves its ideas, thoughts and aspirations In Stone.
Spurts moves of the main motive - that's all Post Mortem Spasms expressed in ragged pace, changing the rhythm between the parts, breaking hysterically into the next batch - like rusty pickaxe crushes the bored rock stone!
Altar hammering harsh rhythm - all of us has to worship religious to its deity. Dense and clear mid-tempo verses ends with the final break - so it's emphasizing their sound with a clear outline.
Viscous stubborn melody of the Lashes extends its way through the barrier, crushing their stubborn and overwhelming desire not to turn in search of a bypass road. Then a second voice singing in helping paving the hard way - through the thorns to the stars, per aspera ad astra - that says dreamily lyrical guitar close to the end!
Dreamy guitar riff finds confidence in the power and persuasiveness of their sound, becoming the main motive of The Horror. But after the intro with the sublime melodic tune, rage and anger acquire accompanying sound, complementing the nervous hysterical vocal harsh their disposable instrumental support.
Ghost Dance changes its structure, do not hesitate to confusion and misunderstanding - fierce furious pace in the verses and bridges leaves no time for the slightest doubt - there is only one choice - to dance with ghosts or to observe that dance. Toward the end of thinking about it is drawn into the vortex of the abyss, but soon the choice is made in favor of the dance with ghosts!
The choice is made, the deadly folly vortex whirl in a whirlwind dance of ghosts, which ignorant of fatigue - but the final, viscous stringy chord in the observation of Death Dance, the major on this ball.
Narcissism to his perfect look does not allow The Narcissist to move faster, tough and dense sound stubbornly and persistently pushes the image of incorruptible and indestructible in the minds of listeners, what nerve vocal delights only wistfully chanting its own chants.