September 01, 2020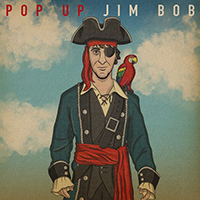 The Jim Bob - Pop Up Jim Bob album's instrumental introduction Turn On, Tune In, Pop Up! envelops the soft mystery, then complements the inspirational intrigue with the charm of Jo's Got Papercuts vocals phrases combined with melodic passages of musical accompaniment.
The wordless chants of female and children's voices set the direction for the development of the main motive, crowned with a vocal narration, which is complemented by female and children's voices, emphasizing the Kidstrike! song title. The title of the Ted Talks song immediately emphasizes the meaning of the lyrics, at first complementing the vocal monologue with only a guitar chime, but then weaving guitar riffs with vocal phrases in a mesmerizing dance. The Truce vocal monologue is in the foreground of the musical image with a recitative. But then the vocal monologue is adorned with romance and the chime of bells by the singing lady.
The 2020 Wtf! rapid drive brings rebellious adventure, combining vocal emotion with musical fervor, but again and again transforming the sound of the If It Ain't Broke composition. The Big Boy again returns to a vocal monologue, complemented by echoes of a muted symphony. The playful procession of Barry's On Safari (In His Safari Suit) mid-tempo music is combined with the inspired adventure of the vocals. Thoughtful pulsations of a drum with echoes of cosmic currents in the #Thoughtsandprayers background create an atmosphere for a vocal monologue. But then the music in the ascended symphony complements the vocal emotion. The You're Cancelled And We're Done enchants the ending of the album with the romanticism of a brooding symphony.