April 02, 2016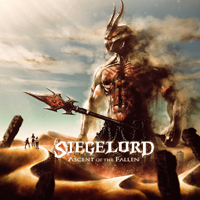 Tell the story Siegelord - Ascent Of The Fallen, not be worried. Fractured Pantheon starts the story in the bright and sparkling sounds. Ends the narrative opening with the pecking in the ears rhythm.
Unhurried preparation, testing for strength of the Gatebreaker. Gates so strong - its hard to break them!
The Desperation Of A Dying God starts with vibrant and viscous beginning. There's jingle in further sounds of that track.
A Grim Destiny consists of the monologue which is describin' the gloomy prospects of the future.
Unkillable that's the story told in a medium pace. The monologue of the narrator in the foreground, accompanied only supports.
Siegelord starts like a folk orchestra and the sounds of nature are combined in a single burst of desire to subjugate the world around them.
Drumroll, measured story As Vultures We Come rocking speeds up briefly, then slow monologue continues that swaying.
Shift A Morbid Opportunity with confession on the background of gloomy organ. Ongoing sad and sorrowful Totem. Totem worship is not fun - sad fate of adepts, and it described by the melodic ballad.
Warchief Of Fallen Spirits first intrigues, then breaks doubts by powerful submission, after which the story flows slowly and lyrically.
A Beautiful Fatality ... well - if he lived like a hero, he has to face up beautiful death. And - a pretty death waits his end smarten oneself up.
Title track Ascent Of The Fallen completes the album, it combines a powerful active part and melodic leisurely story. Finalized by folk ensemble and narrator's monologue.