May 07, 2021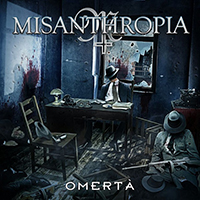 The sound of the Morte Dei Capi thoughtful twilight lounge with charming motifs of the saxophone is entry to the Misanthropia (NLD) - Omerta album's title track, rolling the waves of dark musical rage and a gloomy vocal wrath. The 230 Park Avenue song sounds a very unexpected daunting of musical motifs of the 30-40x years of the last century with a rapid swift of the metal drive and after the announcement of the radio speaker is exploded by the violent waves of the musical thriller.
Weaving impressive Rattling Guns and a Barking Shepherd saga of unity in vocal dominant screaming with background vocals, accused of sparkling ribbons of guitar solos and complemented with progressive musical variations, impressive music and preparing for an intriguing mystery mystical Torture composition that creates a unity of mystery and fascinating epic. Extremely interesting sound of the Il Pasto Sanguinario song brings the vocal party to the forefront of the musical image, whining vocal phrases, combining the duet of different styles with vines of musical variations with symphony effect.
Rhythmically driven by the procession of the medium-point march, The Infinite Winter pumps of the wave of the musical severity of the gloomy anthem.But then the museum of legends and encouraging notes of romanticism of those times are being built in music. The Executioner artistic keyboards make even more variety in the musical stylist of the album, which ends with the sound of A Membership of Violence and Bloodlust song, further enliven the vocal inspired harsh vocals of the storytelle.