January 29, 2020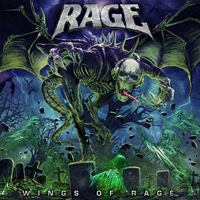 A wolf howl, the scream of a frightened victim intertwines with a guitar solo, retreating after a vocal scream that allows you to pay attention to the development of the main motive, the vocal first begins with a gloomy bitterness, then goes to the fore of the musical narration of the True song. The gloomy severity of the Let Them Rest in Peace introduction envelops an obscure mystery of forebodings, but then the dusk dissipates the vocals, continuing the Rage (DEU) - Wings Of Rage album with a bright and exciting musical canvas of the main motive.
In a furious musical thriller Chasing the Twilight Zone, power, drive and enchanting melody are intertwined. Immediately announcing and emphasizing the name of the composition Tomorrow carries away in the mesmerizing tunnel of the musical extravaganza, returning to the name and accenting it again and again in the chorus.
The title composition Wings of Rage captivates and captivates with the main motive, interweaving symphonic melody and unrestrained power in a single musical lace. The gloomy mystery and the flapping of wings Shadow Over Deadland (The Twilight Transition) ends with an inspirational symphony enveloping musical boundaries with the inspirational grandeur of the A Nameless Grave impressive ballad.
The Don't Let Me Down furious musical thriller continues the album, crowning the power, energy and drive with a veil of sparkling melody. Inspirational romantic tunes unite compositions, smoothly flowing into the next song Shine a Light, raising the banners of epic grandeur and captivating with the mesmerizing sound of a proud ballad.
Rethinking one of the group's most hit songs, which she always performs at encore concerts, continues the album. This HTTS 2.0 (Higher than the Sky) version sounds more powerful and furious than the previous ones, filling the verse with power and drive, raising and emphasizing the name in the chorus. >The harsh waves of mid-tempo drive are crowned with a necklace of mesmerizing melody, the Blame It on the TruthFor Those Who Wish to Die song combines a magnificent musical sacrament with bewitching vocal tunes, marching in variations of an average tempo. Unbridled thriller Down By Law (Studio Jam) violently and energetically completes the album.