April 04, 2018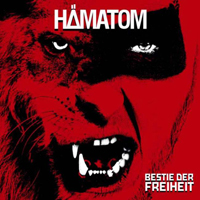 Inspired and bright musical picture Zeit Fur Neue Hymnen begins such a diverse Hämatom - Bestie Der Freiheit (Freak Box Edition) album, in the verse, persistently and stubbornly promoting his history with the vocal requirements, chanting with pride and honoring his exploits. Proudly delineating the introduction of Mein Leben - Meine Regeln like continuing the previous composition. The changes include the rhythmic recitative in the verse and the harsh sound of the chorus.
The orchestral introduction anticipates romantic vocals, but a sharp alarm and pensive premonitions intertwine in a changeable dance with musical ideas, repeating the Warum Kann Ich Nicht Glucklich Sein? question again and again.
The rhythmic of the vocals recitative rolls over the annoying sound of dark forebodings, pensive reflections precede the strident and extended sound of the Morder chorus.
The enchanting atmosphere of the Lichterloh ballad inspires to see all the best around us, pulling back from the ordinary boredom, inspiring to believe in dreams.
The Ich Hasse Dich Zu Lieben main motive is encouraging by stream of musical inspiration, sets the unrestrained readiness for any trials - to overcome all and always win.
Beginning with majestic anxiety, which will later return in the chorus, Lange Nicht Perfekt brings obvious disco influence in the verses.
The thoughtful mood of the Zur Holle Mit Eurem Himmel romance is shrouded in futuristic impulses that hang around the eternal sensual experiences and doubts about the reality of seductive illusions. Far future ultramodern motives reveals from hiding on the background - so brings the atmosphere of techno ,in the industrial environment, to Lauter song pushing this style to the forefront of the musical image in an energetic drive.
Preserving the same glossy touch of futurism, northern folklore motifs envelop the invisible influence of the sound of Unter Strom song, creating a monolithic fusion of different epochs and genre shades.
Bell ringing precedes the beginning of the Bis Zum Letzten Atemzug confession, full of entreaty and hopes, ascending in a bright and inspired chorus to the expanses of divine grace.
The frenzied flow of unrestrained drive precedes the rapid vocal passages of Wehleidige Monster that carried away to the inspired expanses, encouraging the impending changes to unattainable ideals. After this vigorous drive follows the romantic confession of those who going their Todesmarsch last journey, glorifying the last moments of their lives and remembering their former exploits and achievements.
Such a combination of synthpop with the similarity of dixieland presents Schrei Nach Verschworung with a kind of futuristic lounge performed by soulless robots for the unsophisticated public, however, vocals introduce an emotional component, decorating music with experiences and inspirations.
Last track's title Bon Voyage clearly indicates the mood - the concentrated anxiety and emotions in the verses are removed by encouraging wishes in the choruses.