July 06, 2020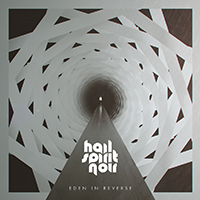 Intriguing Darwinian Beasts mystery creates a mysterious atmosphere that develops into further echoes of cosmic currents and obscure electronic impulses that progressively combine into mesmerizing melodic decisions and musical discoveries that make up the musical essence of the Hail Spirit Noir - Eden in Reverse album.
Bringing pulsating waves of disturbing drive Incense Swirls sometimes marches in the artistic charm of epic musical appeals and dreamy vocal reflections, weaving them together in a progressive musical lace. The guitar solo comes to the forefront of the Alien Lip Reading musical image, captivating with bewitching melody, but then vocal experiences and keyboard passages, like echoes of cosmic currents, complement the musical composition. A vocal monologue intertwined in a charming duet sets the mood for the introduction of the Crossroads song, then rolls in waves of a restrained drive, crowned with a vocal narrative.
By introducing brief elements of vocal bitterness The Devil's Blind Spot preserves the psychedelic pulsations of unclear anxiety, topped by a haze of keyboard solo. Complementing the sound with notes of a metal drive in introduction, The First Ape on New Earth then the music focuses on unhurried meditations, entwining wise vocal meditations with softened echoes of black metal, but preserving the dominant position of cosmic artistry. The Automata 1980 completes the album, introducing into its sound even some echoes of music of the 80s of the last century and notes of disco dances.