May 15, 2020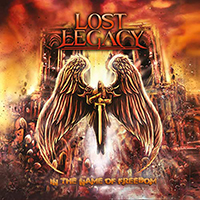 The instrumental Rise To Glory symphony, captivating with reflections of classical influences, begins the Lost Legacy (USA) - In The Name Of Freedom album, complementing the sound of the next composition My Faith, introducing some shades of progressive musical variations, marching in a medium-tempo rhythm, somewhat accelerating the tempo in the instrumental part, corresponding to a waving guitar solo.
Marching soldiers are opening the intro of Front Line composition, then a saddened vocal narrative comes to the forefront of the musical image. The title track In The Name Of Freedom twists the bewitching lace of a guitar solo into the intro, then the vocals transform the style of sound into a leisurely procession of a magnificent ballad. But then, again and again developing progressive variations of the rhythm section, the music carries away more and more new transformations.
The howl of a police siren precedes a procession of the Take Me Away as a dense mid-tempo march. Dropping the shackling fetters of mid-tempo riffs, the Enough Is Enough intro speeds up the musical narration, but the vocal tunes return to thoughtful reflection. But in instrumental bridges, music soars in a swirling whirlwind of furious drive.
Entering with a grim guitar solo Will You Remember then explodes with a swift drive, but the vocals returns to a painful narrative. Further composition combines many of these alternations. The rhythmic mid-tempo pulsations of the Rules Of Engagement song, entwined with vortices of a sonorous guitar solo completes the album with emotional vocal tunes, with a touch of artistic mystery in the chorus.