June 15, 2017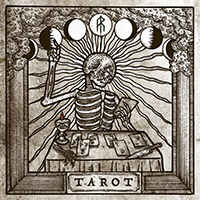 Beginning with an increasing musical wind, then epic folklore motifs are combined with energetic, but melodic and bright guitar riffs. In the middle of The Fool song, which starts Aether Realm - Tarot album, the vocals changes from the scream-growl to dreamy clean style, along with gentle keyboard passages creating so romantic atmosphere into which demonic screaming bursts as twilight shade.
The title track Tarot continues to sound as stunning, energetic drive into which melodious guitar and keyboard delights have intertwined.
In the instrumental part, the epic melody comes to the fore, creating еру wonderful base by guitar riffs, over which hovers the spirits of keyboard ideas.
From the first notes demonstrating the sound of the leitmotif, which draws you into an unrestrained dance, The Tower vigorously and tangibly circles around in a whimsical dance.
In the pub, frenzy and fun, nosh-up and beer folk, the whole company has elected King of Cups (feat. Chris Bowes), which will rule the pouring of beer and whiskey to all of them!
Powerfully, but restrainedly and melodically moving at an average pace, Death interrupts for melodic guitar fingering and a whisper, changing the composition in the ballad direction, calling after dreamlike lofty high chorals. But the instrumental part adds power and drive, however - without overcharging the ballad melody.
The Chariot is rushing to meet the impending fights, battles and trials. In the instrumental part, soft folklore motifs comes to the fore, creating a respite for the listener. But power and fury again serves as the basis for unforgettable folklore motifs.
The violin starts sadly and gently, the The Devil orders the ragged rhythm pattern, vocals sound as the combination of screaming or clean style fore over the growling backgound. But after restraining within the framework of the average pace of the drive, the romantic passage of the piano returns to the ballad, then puts on sparkling armor of instrumental power.
The ornate, singularly The Emperor's beginning enthralls to follow his delights, listen to his instructions and orders in a whirlwind of musical drive, circling around his unique persona.
Epic, grandiose and impressively, the Strength theme raises itself to the top of the sound from the very beginning, drawing instruments, vocals and creating attractive and unforgettable impressions by its solemn procession.
Gentle Temperance ballad continues the music in similar manner, beginning with an easy and soft guitar break. But after quiet and soft musical decisions, a solemn exaltation of the symphonic drive concentrated in the restrained motives follows, which completes the composition along with the vocalist and the choir of comrades-in-arms and companions.
Beginning with cosmic melodies, The Sun, the Moon, the Star completes the album so diverse and impressive that it seems as separate album - varying the tempo and melodiesm vocals styles and all of the musical ideas. But the main motive is the axis around which the delights and changes soars.