October 05, 2020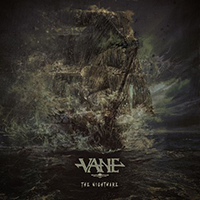 The howl of the sea breeze and the impending thunderstorm anticipate the skipper's call to his crew, then rippling through a mid-tempo march topped with a guitar solo and complemented by the captain and sailors' charismatic vocal unity in the chorus. This Row, Ye Scallywags! song starts the gallery of sailor romance embodied in the Vane - The Nightmare (EP) concept album.
The intro guitar solo captivates with epic romanticism, but then a whirlwind of guitar riffs complements the music with fast-paced drive. The introduction of the vocals restrains the musical impetuosity, transforming the sound into a dense musical thriller on the verge of a mid-tempo march and a fast-paced drive. The chorus complements the sound of The Cannibal composition with the banners of an epic tale.
Intriguing mystery and obscure sounds continue the creaky whisper of vocal ambiguity, slowly developing the sound of the The Burial track, then lifting the gloomy veils of a viscous epic, serving as the introduction of the Become The Nightmare composition, which can be considered the title, starting with progressive artistry of a driving guitar solo, then serving as the basis of the main motive. Then the sparkling melody of the guitar solo crowns the musical image in the chorus. The final composition of the album Walk The Plank unites pirate romance, the harsh power of a combat march in the frenzy of a driving musical thriller, holding back the pace from frantic impetuosity.