February 25, 2021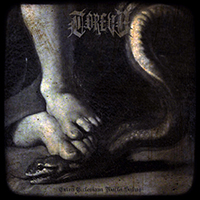 Immediately surging into a frantic race of unrestrained drive, the Protestant Heresy song brings out the twilight of a guitar solo at the beginning, then weaving them with vocal fury in a single musical stream of a frantic thriller. The Times of The Pagans track thickens the musical pace in a gloomy procession on the verge between a mid-tempo march and a furious flight of gloomy musical frenzy. But before the vocals begin, the guitar solo takes off in a fast-paced race, complementing the Toreva - Extra Ecclesiam Nulla Salus album with a flight of dark energy.
Whipping up dark waves of desolation, The Final Prophesy composition enchants with the sound of the main motive, in which the background is created by muted chants of lost souls. The Warning initially concentrates the atmosphere of the dark sound of the dark anthem, but then accelerates the tempo of the musical sound, leaving a gloomy atmosphere of guitar passages, enveloping the vocal screams of demonic screaming in them. But then the music again returns to the viscous procession of the dark anthem, concentrating the vocal onerousness and musical melody in a leisurely march.
The Cleansing song's sound captivates with the musical stream of the main motive, then weaving them in a spiral round dance with vocal phrases. The SSPX Wolf-Den track as if continues the musical style of the previous composition, giving the vocal unity with sparkling musical passages even greater melodic brightness. The Exsurge Domine closes the album with an alternation of the mystical musical mystery of instrumental bridges and epic twilight with a vocal tale.