May 27, 2021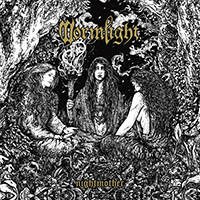 The title track begins the Wormlight - Nightmother album, already in the introduction declaring a guitar riff that sets the musical tone and becomes the main motive, then crowning the musical waves with vocal phrases. The Whisphering Night melodic charm envelops vocal phrases in a twilight haze, surging in impetuous flight, but holding back the pace from excessive acceleration by vocal reflections. The soft sound of the intro is then transformed by the romantic inspiration of the union of music and vocals in the Blood Wind and Spirits charming ballad waltz.
After an intriguing introduction, the Hounds of Apophrades song takes us into a fast-paced pursuit of imaginary ghosts, whirling up a whirlwind of guitar riffs around the combining screaming and growling vocals part. The Voidspawn track is immediately soared by the impetuous frenzy of a musical thriller, crushing everything in its path but somewhat pacifying the tempo in the sound of the chorus. Enveloping the melodic charm of the guitar riffs of the main motive, the Fateweaver takes you into the realm of imaginary temptations, retaining the melodic charm even with the acceleration of the tempo, but returning in bridges and choruses to the impressive guitar solo of the intro.
The twilight mystery of the intro develops in a fast-paced race of frantic drive that retains the melodic charm in the sound of the Aeon of the Wolves song. The Deadlight Descent immediately rolls over with the power of a mid-tempo battle march, alternating and combining screaming and growling in the vocals and complementing the vocal transformations with melodic notes of guitar solos and instrumental bridges. The By Empty Cradles composition concludes the album with an epic saga, slowly marching through the haze of forgotten eras and twilight mystery.