November 05, 2016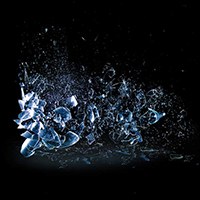 A variety of unexpected and unpredictable multi-valued images combines, causes The Dillinger Escape Plan - Dissociation in the issue!
Furiously and restless, blurred in a ragged rhythm Limerent Death slowly leads her story, tending to incoherence in the intrigue, preferring training and saturation with bold expectations, finishing in the growing rage and speeding up the pace of hysterical phrases.
Lyrical and romantic ballad Symptom of Terminal Illness fills the space with the emotional outbursts, turning shades of thought and inspiration with the dreamy expectations, nervousness vocal phrases elevating emotional background to the next level.
Impressive riff sets the mood of the entry of Wanting Not so Much to as To, then changes in its vocal shades, selecting from pure emotional and nervous screams, guitars dancing around with their vortices, fences with unexpected melodic attacks.
Modern electronic theme Fugue takes us in anthropogenic space, denying the possibility of anything living around. Dance instrumental parts take us to the dance floor.
Nervousness, boarded, furious start of Low Feels Blvd converted into alternating of similar parts with melodic romantic sublime dreamy part that prevails nervous phrase that completes the composition.
In promiscuous, changeable rhythm - from side to side, rushing from one extreme to the other, both in pace and in a rhythmic pattern Surrogate continues its fascinating story for all of us.
Eccentric, unexpected jerks Honeysuckle carries us to the melodious melodic chorus, vocal flying like ghostly disembodied spirit among the clouds, and then that incarnations united in a single impulse, bringing the celebration of musical eccentricity over the dull certainty.
Controversy and disagreement are formed in the intro Manufacturing Discontent, then furious and fierce rage replaced sublime melodic tunes, but they returned and combined with each other, bringing an unexpected ending.
Apologies Not Included increasing tension, vocal paints musical canvas with strung shades, that alternates rhythms and structures one with another. In the rhythmic manner, at an average pace suited to the composition of fiery fierce attack, exploding with rays of emotional rage and anger.
Fascinating, memorable guitar riff opens the declaration that states Nothing to Forget, in a confident and clear manner hammering this setting in minds of all around them.
Title track Dissociation crowns that artwork, starts with the fabulous symphonic intro, that turns into fine calm romantic ballad.