August 18, 2019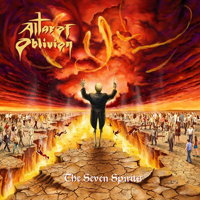 Music marches in a majestic procession, shrouded in trends of inspiration and charm and vocal phrases, sit the ruling overlord in the majestic procession of the Created in the Fires of Holiness musical passages. Continuing the Altar Of Oblivion - The Seven Spirits album, at first with thoughtful doubts, then No One Left song is rolling with fighting trends, drive again and again alternating these transformations, yielding in the instrumental part to the symphonic sacrament, continuing a return to the thoughtful narrative of the introduction.
After a protracted introduction, ending with thoughtful vocal reflections, the main motive of Gathering at the Wake composition is intertwined with the vocal part in a bewitching dance that weaves the bewitching trends of medium-tempo epic music and heralds vocal narratives of fairy tales. The Seven Spirits title track continues the album with a majestic and inspired ballad, reviving from oblivion tales of valiant knights and legendary heroes.
The main motive and vocal narrative sometimes deviate from mystical mysteries, complementing the Language of the Dead composition with a kind of charm. Full of mysterious trends, leisurely rolling the musical canvas, the solemn anthem is complemented by inspirational majestic vocal phrases, sometimes accelerating the pace, but preserving the charm of the greatness of the Solemn Messiah composition. Grand Gesture of Defiance completes the album, beginning with a bewitching mystery of vocal phrases broadcasting in an obscure symphonic twilight, then enveloping vocal phrases and the listener with enchanting melody and epic significance of musical passages.