August 18, 2020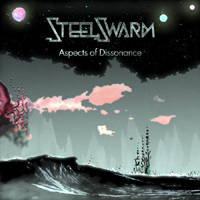 Accentuating the progressive sound of the intro with the dominant part of bass guitar, the Begin Simulation then begins the vocal narration with a harsh harsh on the verge of growling with backing female vocals, then transforming the vocals with dreamy tunes of clean vocals, ending the composition with a sparkling guitar solo. Beginning with an alternation of keyboard and guitar solos, the River of Sky continues the SteelSwarm - Aspects of Dissonance album's sound with enigmatic anticipations of disturbing obscurity, anticipating the intro of fierce vocals.
Introducing the enchanting mystery of clean vocals, the Future Gods envelops these soft reflections in romantic veils, sometimes hardening the vocals to an emotional harsh, while preserving the bright guitar parts. Musical mystery intertwines with vocal phrases striving to solve riddles intertwine in a mesmerizing dance, bringing clean vocal reflections to the top of the Everything Lasts Forever musical image.
The Life Obsolete instrumental mystery of keyboard improvisation is the introduction to the majestic triumph of the Phthalo inspired ballad that lifts a dreamy mood with sparkling guitar solos and lofty vocal tunes. But the furious harsh brings its influence to the vocal part, calling for the fierce doubt of the musical extravaganza in the tenacious whirlwind, complementing the short-term ferocity to growling vocals.
The rhythmic pulsing of a percussion solo complements the jittery chiming and distant notes of the guitar solo, then the Wasted Signals vocals alternate between clean and harsh, with breaks for a bright guitar solo. The Twilight Harbour concludes the album with impressive artistry of progressive musical solutions and alternating clean and harsh vocals.