June 07, 2022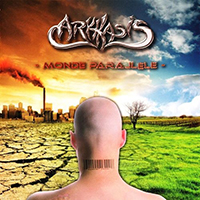 After an intriguing intro, music and vocals intertwine in a single whirlwind of the exciting musical journey of the Matricule song, opening the gates of the Arkhasis - Monde parallele musical release, varying the tempo and musical style between verses, bridges and choruses. The thoughtful sound of the Un seul doute ballad continues the album with vocal lyrics full of doubts and forebodings.
Changing the vocal lyrics to English, the Child of Lies composition rushes in search of adventure and transformation of the sound. The Focus ballad returns to the French text of the song, captivating with the romance of vocal reflections and the variety and variations of musical style, continuing the romantic musical search for the sound of sensual charm and musical sparkle of the Monde parallele title track.
The twilight intrigue of the introduction weaves a bewitching lace of musical expectations, then enveloping the Pensees vocals story with veils of twilight echoes of ancient fairy tales. The Un attrait enigmatic ballad continues the musical narration with vocal thoughtfulness and bewitching artistry of the musical narration of the bard's tale. After the intro, the L'apprenti song soars into a breathtaking union of music and vocals, combining musical drive and vocal inspiration in a single musical flow. The sonorous and dense pressure of the Time Has Come song completes the album, once again returning to the English lyric and captivating to the procession in a rhythmic march to the coming battles.