March 12, 2017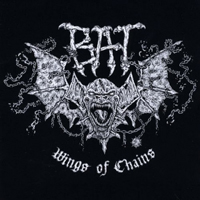 Sharply, quickly and aggressively, flying furiously on their own Bat - Wings Of Chains , is rushing toward everyone and everything!
Drive and fury artlessly and aggressively poured out in all directions in Bloodhounds howling. Then a furious drive takes place in Code Rude, slowing down the pace, but increasing the angry vigor of harsh vocals.
Quickly and sharply, Master Of The Skies indicates his intransigent attitude towards the world around him.
Visually and persistently Primitive Age creates a dense sound with sharp impulse splashes of guitar aggression. Vocals abruptly and unrestrainedly broadcast in verses, reducing the tempo in the chorus, persistently carving out significant phrases.
Vigorously and angrily, the vocals admit that is Condemner in front of us, stubbornly and intrusively interspersing harsh phrases in gloomy music, Ritual Fool continues a similar style - furious angry confession with a chorus to sing along on the background.
Stubbornly, persistently and indisputable title track Wings Of Chains shows a confident statement in a clear, chopping holistic sound.
Total Wreckage energetically, sharply envelops with the gloomy impenetrable atmosphere of the impenetrable fog. Circles in the changeable whirlwinds of hot winds, enveloping the hot sultry smoke of Rule Of The Beast.
You Die sets the introduction to the next song Cruel Discipline, with conviction, maliciously and confidently adjusting to the most thoughtful and clear perception of his canon and rules.
Quickly, abruptly and swiftly Bat completes the album with his fierce stubborn sounding. Have to beware of the bat, it's clear.