September 10, 2020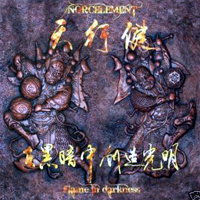 Beginning with a fast-paced drive and the unbridled fury of a guitar solo, the first song on the Norcelement - Flame in Darkness album then surprises with its harsh vocals, combining gutural growling with notes of pigsquil. And in the music of the Jidian (Memorial) composition an incredible number of styles are intertwined. Starting with the sounds of an oriental temple with the monks talking in the background, the Longzi Li De Shengming (Life in the cage) composition then brings a touch of oriental wisdom with a guitar solo and hardens vocal growling to a battle march. The bass guitar solo creates intrigue in the Taopao De Qingchun (Runaway Youth) intro, then the music and vocals weave in an explosion of deadly dance.
Oriental motifs end with the Taohuayuan Meng (Peach Blossom Spring) harsh mid-tempo march, sweeping away any obstacles to the unity of music and vocals with its drive. Surf, mysterious musical mystery continues with the twilight of a guitar solo, then with the introduction of vocals, accelerating the pace and pumping up the drive of the Xiwang Zhi Shen (God of Hope) musical thriller. Strange sounds end with a drum solo, combining with bass and hum of guitar strings. Vocal uncertainty then continues with the Jiu Ge (Wine Song) aftermath of drunken revelry.
The bass guitar solo continues with the solemn significance of the Xianxingzhe (Forerunner) mid-tempo anthem, then enthralling guitar riffs and vocal phrases in a dance together. The guitar solos of the instrumental fragments captivate with melodism, combined with vocal severity in bridges and choruses. The epic pensiveness of musical motives, complemented by a wolf howl in the background, creates an intriguing atmosphere of the Lang Zai Lushang (Wolf on the Road) introduction, continuing with the musical procession of the heroic saga. The noise of a helicopter, explosions, bursts of machine guns end with the union of the Xuelei He Yi (Blood and Tears) vocals and music with tempo variations in a single music stream. Epic saga Zai Renjian (In The World) concludes the album with an inspiring musical variety, combining the solemn prowess of battle marches with the melodic charm of valiant epics.