February 01, 2020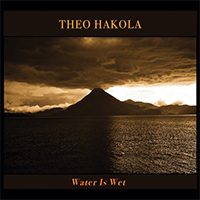 A soft chime of the Who The Hell? musical passages envelops thoughtful vocal reflections with gentle whirlwinds, introducing at the beginning of the Theo Hakola - Water Is Wet album spiritual notes of traditional sound. The main vocal part of male vocals is complemented by gentle notes of female phrases. Bringing the vocal narrative to the forefront of the musical narrative, the music of So Bad song complements the vocal inspiration with an enchanting chime of keyboard passages.
Moving the musical sound to open spaces of doubt, the Your Baby Blacks, Baby music in a bewitching dance weaves the main part of male vocals in a dispute with the background phrases of female vocals. Pulsating waves of memories of wanderings and adventures remains amid inspired the Never Bought A Bottle Of Water vocal phrases. Waltzing in the procession of the main motive, the vocal narrative gives the sound of In A Sauna You Sweat song some shades of a mysterious atmosphere.
The thoughtful sound and echoes of the Bury Me Standing guitars passages envelop the listener in a country-style atmosphere. But sound of the Scratching The Scruff composition brings light shades of sadness and reflection, weaving a mysterious lace of rhythmic elements. Inspiring with the waves and accelerating the pace Raining Embers brings inspirational playfulness, weaving male and female vocals in a mesmerizing dance.
After improvising a guitar solo in the introduction, 1963 gives a much more important role in the musical image of female vocals, however, preserving male vocals in a dominant role. Weak In The Knees ends the album with a leisurely march of a saddened blues, slowly and thoughtfully developing the story of its sound.