August 17, 2019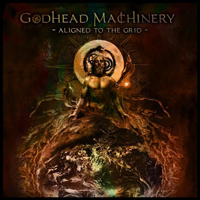 The gloomy veils of inspiration clings around Tithe Ii vocals phrases, forming mesmerizing tunnels, sometimes carried away in a fast-paced race, sometimes intertwined in an epic lace of musical strings, enchanting with an inspiring sound that embodies ancient tales. Guitar solo brings a charming note to the Alpha introduction, continuing the Godhead Machinery - Aligned To The Grid album with a pulsating stream of mesmerizing melody, accentuating vocal phrases with musical passages.
The symphonic sacrament appeals to the twilight trends of thoughtfulness, developing into a leisurely musical shroud of The Existential Strive sad dark ballad. Inspirational waves of the Call Of The Banner majestic anthem are enchanted by fascinating musical trends, complementing them with obscure disputes and mysterious speeches.
After the mysteriously mysteries of the Defiant Silence introduction, the music first paces the ghostly march, then explodes in a fierce stream of drive, expanding the stylistic framework of the album. The mysterious mystery of the Hymns Of The Wicked bewitching symphony intertwines with chorales, acting as a kind of demarcation of the album's compositions, although its motifs develop in the subsequent composition Above A Legion Of Equals, rigidly and violently alternating dark power and rage with bewitching symphonic fragments. Impassive Atrocity preserves symphonic grandeur, rolling inspirational waves of a dark anthem, complementing with enchanting guitar solos and intertwining them with the grandeur of vocal phrases.
Starting with mysterious keyboard passages, spinning the flywheel of the dark essence of the musical spindle around vocal phrases, the music of the Illusioncomposition enchants with an epic sound. The title track Aligned To The Grid completes the album, partially preserving the atmosphere of a bewitching ballad and inspiring thoughts about being and essence.