February 09, 2021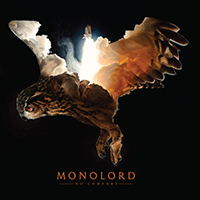 Darkly and painfully pumping up the twilight waves of guitar riffs, the vocals of the Monolord - No Comfort album's first composition The Bastard Son seem to be trying to break free from the musical fetters that hold it down, but the vocal phrases are respected in the twilight onerousness of musical passages. More severely and persistently, rolling in waves of musical drive, The Last Leaf walks in a rhythmic march, bringing notes of hope and readiness for trials in the vocal tunes, especially manifested in the emotional melodies of the vocal part in the refrains, soaring in pursuit of unattainable goals.
Dispelling the gloomy anxiety with a bright motive, the guitar solo of the Larvae introduction brings sparkling foreboding of hope, marching farther into the confident procession of the solemn march. The music becomes harsher and harsher with vocals taking their phrases to the top of the musical image of an impressive anthem. In the middle of the composition, in its instrumental part, the guitar solo weaves a musical canvas of mystical fascination, anticipating the pumping waves of restrained drive and the hardening of the rhythmic component of the sound until the return of pensive greatness. By accelerating the tempo and pumping up waves of musical impatience in the intro and instrumental bridges, the Skywards song makes it easier to sound in fragments with sad vocal pleas. The guitar solo envelops the listener with sparkling tapes of transcendental dreams.
Spinning the flywheel of the guitar chime the Alone Together sets the path for the procession of a romantic ballad with light notes of sadness, ending with a gloomy sad saga of the No Comfort title composition, which puts a point in it in an atmosphere of indescribable grief and incredible sadness.