March 22, 2020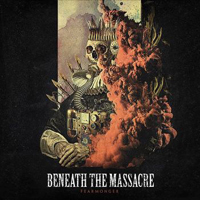 The Rise of the Fearmonger composition, which claims to be the title of its title, begins the Beneath The Massacre - Fearmonger album with a violent explosion of vocal anger, powerfully exploding with furious growling, entangled in the progressive charm of guitar improvisations, weaving into a bewitching musical lace. Hidden in Plain Sight continues the musical extravaganza, as if merging with the preceding composition, but constantly changing and transforming the rhythmic structure and introducing the charm of the solemn anthem with guitar solos.
Weaving together in bewitching grandeur the mesmerizing melody and power of a furious drive Of Gods and Machines captivates with such unity, sometimes introducing the trends of a leisurely rhythmic march. The vocal elevates its appeal to the forefront of the Treacherous musical image, entwining the continuation of its thoughts with a drape of guitar passages. Continuing the previous composition, Autonomous Mind accelerates the tempo, then alternating the fast drive crowned with vocal experiences with a severe pulsation of deep thoughts.
Weaving the bewitching mystery of the melodic extravaganza Return to Medusa complements the musical charm with echoes of ancient legends, then Bottom Feeders picks up these banners and enchantingly flies them in a majestic procession.
Epic twilight gives the Absurd Hero intro a certain mystery, but then the guitar solo intertwines in a round dance with vocal fury, twisted by vortices of musical unrestraint. The fury and power of the musical passages are surrounded by vocal indignation by the intricacies of the musical extravaganza, combining in the Flickering Light bewitching saga, enchanting with the unity of drive and melody. Tarnished Legacy completes the album, while retaining inspiration of the union of vocal anger and musical drive.