June 01, 2016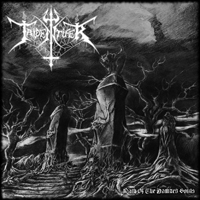 Into Darkness - your suffering, your suffering will be legendary even in Hell...your suffering... Tridentifer - Path Of The Damned Souls!
As Skies Turn Black hard! Smash down, kick asess! Distorted fury calms out of its nature to force all around to challenge its way to path out from there!
The mysterious, bewitching, deliberately starts Carnifex Salutation, keeps constantly changing in rhythm, vocals feeds that - and other ways to filing, the instrumental part is head of thats shifts!
Fracture, change, blow - START oF Insidious! Bobs, overcomes, changing the rhythm it is, there's no constant things - listen it to hear it!
Through the knee, break, smash! - you have o Revelation Of Doom! Smash, smash at all! Smash all down! Argh! The middle of lush, dense evil - not all broken ?!
Epic, dreamy, entrained in the other worlds guitar intro opens Ripping Cancer! Then mostly slow, sticky, stringy rhythm. That wraps, drags, ensnares us with its melody!
Enchanting, fabulous, fascinating intro of the Days Of Thunder and again - the story carries its own pace, consciousness follows him. Powerful, tough, enslaving w/o anydoubt about!
Mournful begins Torture & Agony - and that's so! How else?! Blow! Smash! Screaming vocals tells your way out!
The cart not going? Path Of The Damned Souls can't way out from its path. You have to take it to the end, or you fail!
Shot! Have got? No? Hide Out! Or that's for you - Death To Those Who Decline! Huge, powerful, mid-tempo belief - need to hide!
Acoustic, dreamy, lyrical intro overcomes the Bloody in its melody. But the power and anger is stronger - it overcomes the melody and moaning!
Slowly, acoustically, deliberately dissection to prepare for the Bloody Execution. Hardly! Powerfully condemned - it have to be done! Blow! Smash! Kick! Tactfully, carefully preparing the ground for the ... Of Days To Come! SFU will be for all of us, there's a many ways to come the same point - a lot of path to the same target!
Fairy says something ... or not? The Rise Of The Apocalypse appens, like it or not! Powerful thrashes, angrily cram - have to understand its meanings. Have to - it accelerates tempo briefly, then its fury rush its way to tou w/o any stops!