January 12, 2022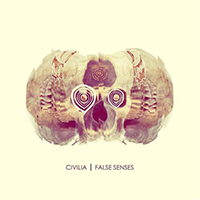 Musical insistence accompanies vocal discontent, enveloping the sound of the Of Your Name composition with mesmerizing artistry of progressive musical variations, enveloping vocal doubts with fascinating musical veils. The title track continues the musical narrative of the Civilia - False Senses album, bringing to the futuristic musical sound echoes of ancient legends and epic sagas and enchanting with the sensual rise of the vocal charm.
After an artistic introduction, the Fires In The Fields song rolls out a shaft of harsh drive, somewhat subduing it with the introduction of the vocals, but once again returning to the gloomy severity and heavy persistence in the instrumental bridges. A piano solo rolls out the musical canvas of the I Am intro, then complements the sound with an obscure background vocal narrative that gives the musical story shades of mystery. But then the music fierces in a progressive dance, combining jagged rhythmics with a roundel of guitar and keyboard passages around vocals confessions and reflections.
After a rhythmic heartbeat, the vocal part comes to the forefront of the We Are The Same musical image, alternating and combining with doubtful musical variations with bass pulsations as a leitmotif in the background. The Dust Of You music creates a kind of atmosphere of mystery, anticipating further changes of sound with vague wordless chorales in the background and a transfixed by doubts and uncertainty in the vocal part. The Wires dense, persistent and stern march completes the album with solemn significance.