September 27, 2020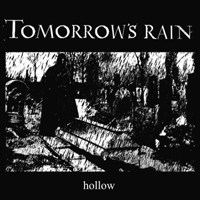 Detailed breakdown of the contents of the Tomorrow's Rain - Hollow album's each song is deemed necessary, given the big names involved and the way their presence impacts the songs. The only songs on the record without guests are the opening track Trees and the third song A Year I Would Like to Forget. These are both pretty straightforward doom and Fear (feat. Aaron Stainthorpe) bridging them doesn't change that much, but has a stronger emphasis on melancholy and the Aaron Stainthorpe voice.
However it's the next 4 tracks that build the album's high peaks. The In the Corner of a Dead End Street (feat. Gregor Mackintosh, Sakis Tolis & Kobi Farhi) song is the longest and probably most infectious song on the record, and it showcases lead guitars by like the aforementioned ruler of Hellenic Black Metal Legions. Particularly in the main riff and through Sakis presence this song makes a pretty strong case for what late Rotting Christ would sound like if they went doom.
The Misery Rain (feat. Fernando Ribeiro & Mikko Kotamaki) brings a marching pace, a goth tone and the strongest dynamics thus far offering solid grounds for Fernando Ribeiro of Moonspell and Mikko of Swallow the Sun. It also has pretty cool spoken word and Spanish sounding clean guitars. The dynamics are kept up through the next song Into the Mouth of Madness (feat. Jeff Loomis & Kobi Farhi) which brings the most out-of-context guest, none other then Jeff Loomis who persuasively and boldly shreds over doom, and the Hollow (feat. Spiros Antoniou) title track switches gears to the low end as Spiros lays the most earthly, massive and corrosive of vocals on the record. It is to be mentioned that through all these phases, the band pendulates between their own sound and the custom-made sonic platforms on which their visitors can shine.
The Weeping Song (Nick Cave & The Bad Seeds cover) feat. Kobi Farhi, Anders Jacobsson & Lisa Cuthbert)) song ends this release with a romantic cry, combining the severity of male growling and clean vocals with the song of female vocals.