December 09, 2016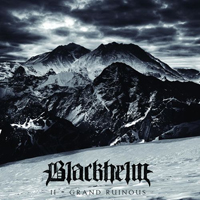 The souls of ancestors remembers all, the spirit of ages remains in their dormitories and crypts in spite of BlackHelm (Aus) - II Grand Ruinous !
Mysterious unusual sounds creates a mysterious atmosphere, enveloping Gateway to Extinction with impenetrable fog. Then guitars saturates sound with the power of fury, adding modern applications to ancient prophecies and ordinances. In the chorus, unhurried rhythmic blows comes to the fore, confidently striding forward to the approval of their beliefs.
Ancient prophecies and legends do not retreat, attracting the attention with unhurried mystic guitar riffs in the entry of title track Grand Ruinous. Then these motives briefly explodes with guitar passages, without changing the basic motive, but surrounding it vortices of musical delights. Again and again!
Guitar fingering voices mysterious rite in Fathomless intro, ornate and delicately moving on, juggling with rugged rhythm and tempo changing. Sophisticated elegance transferred changeable picture composition, accessible only to the perception of the chosen.
Predatorial Ancestry do not let go without paying tribute their heritage worthy of worship, rhythmically hammering spiritual ties of tribal values.
Ancient legends are diverse and ambiguous, it is impossible to know everything, but some of them appears in the Gravespawn - Inexorable Grimness (EP)!
Legends tale begins, many centuries gone into oblivion nowdays. Melodious intriguing intro of the Old Dragon's Domain turns into fast narration of ancient stories, that keeps spirit of ages and elder point of view incide its rushing versus with gentle guitar fingering bridges and significant delight chorus.
Sound of Oath Of The Annihilator is full of power and fury from the beginig, changes into calm gentle tunes from time to time to respite. In chorus clean vocals of elders takes its turn to reclaim our minds to return our attention to their past precepts and instructions. Confident unhurried narrative, supported by a furious melody, completes the composition and returns confidence in adherence of their covenants to the ancient ones.
Wonderful memorable motif permeates with ghostly blade all the canvas of Thy Gates Ablaze composition, enveloping clouds magical retreats and put on those to whom have touched enchanted armor of lyrical significant melodies and fabulous keyboards passages.
Runaway riffs Between The Devouring Monstrosities fly without hesitation, billowing as windy impulses in the unstoppable rush. But after a fierce and frenzied dash should be melodic and dreamy break, to respite the strength and energy with the grim refined melodic saga - until the next the mad and furious spurt and next campfire.
Northern Soul legends, without changing the shape elevate our thoughts to its roots, combining the northern lights of their music with clean vocals of their descendants and screaming and furious howling wind to reclaim Scribes Of Forsaken Lore, which comletes this storybook of nothern lore.