September 12, 2020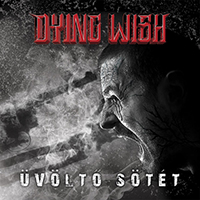 Electronic impulses of the Intro keyboard notes create a union of futurism and ancient fairy tales, starting the Dying Wish (HUN) - Uvolto sotet album's musical narration with epic charm, anticipating the motives of the next composition, evoking the solemn melody of the Arnyekvilag majestic anthem, then complementing it with the inspiration of clean vocals and complementing the harsh melodies of growling. Clean vocals come to the fore of the Pokolbol a mennybe musical image, capturing musical additions to follow his instructions in the alternation of musical styles. Then growling and harsh, together with a furious drive, contribute to the musical composition.
Clean vocals dominate and captivate with their variations in the sound of Szilankok composition, drawing them into their unity with the sound of the main motive. The Uvolto sotet title track brings the futuristic echo of industrial music into the mix, combining the emotion of clean vocals with the severity of growling vocals. Whipping up the drive of the musical thriller the Szovetsegben az eggell then raises the epic banners of a heroic saga with clean vocals.
The viscous intrigue of the twilight guitar solo of the introduction carries away in anticipation of a further denouement, then marching in the Ketteszakitom mid-tempo march with progressive influences in a rhythmic transformation, then the vocals crowns this musical narration with a harsh significance, combining in their phrases clean, harsh and other influences. The keyboard notes set the direction for the development of the Wishtrumetal instrumental tale main motive, then the guitar solo brings notes of romance to and epic fairy tales. Putting futuristic industrial influences into the keyboard part of intro, the Alarc then continues that with echoes of oriental folklore around the vocals and concludes the Outro electronic album.