February 09, 2022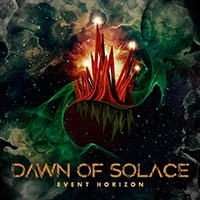 The title track begins the musical musings of the Dawn Of Solace - Event Horizon (EP) release, captivating the listener with a combination of vocal wisdom and musical artistry in an enchanting waltz of impressive togetherness. The sound of musical solutions and artistic variations captivates with depth and wisdom of reflections.
Enveloping the intriguing mystery of the twilight haze, the Skyline ballad continues the album's musical narrative with notes of mournful romance, mesmerizing with its enigmatic musical charm and deep vocal reflections that take you to the expanse of unrequited dreams and unfulfilled hopes. The artistry of the keyboard romance completes the sound of this composition.
The guitar solo of the White Noise intro moves to the forefront of the musical image, giving the sound echoes of medieval minstrel sagas and fairy tales of wandering bards of those times, completing the album with unity in the creative mood and a variety of musical variations.