October 15, 2018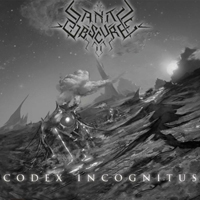 Mysterious electronic impulses are interwoven with guitar fingering in the Extraterrestial Abduction introduction, then the slow thoughtful musical canvas rolls a heap of doubts of the first Sanity Obscure (Sgp) - Codex Incognitus album's track. Then there is a furious drive from the duet of the scientist with the machine. In the instrumental part, the guitar solo seeks to break the interlacing of scientific mysteries.
The furious drive opens the Interceptor introduction, but the song keeps the average tempo, the vocals cautiously and wisely go over all the potential possibilities, then slowing down the tempo, subordinating the composition to their reflections. In the instrumental part, cosmic rays envelop the mind with radiance, culminating in a complex and diverse musical finale.
The retelling of legends woven with scientific studies gives importance to the Colossal Beast introduction, then the epic narrative introduces the spirit of ancient legends - as if in every world there are its own dragons and leviathans. The instrumental part recreates the wondrous lace of a romantic ballad, erecting the covers of legendary trends.
The mysterious haze wraps the thoughts with the viscous and fascinating narration of the Interplanetary Warfare song, continuing to unite mystical tales, frightening inventions and the spirit of the pre-dawn haze. But the epic narrative moves from unity with antiquity to the sphere of futuristic legends, starting Moon Odyssey (Le Voyage Dans La Lune) with artistic passages, with the introduction of vocals the music keeps the epic becoming tougher, the pace accelerates, rolling waves of gloomy drive interrupted by incredibly progressive with jazz tones of musical passages in instrumental bridges.
The impenetrable fog envelops the shroud of the Technomancer viscous march that weaves witchcraft ordinances into futuristic scientific technologies, weaving together mystical magic and technological scientific research.
The whirlwinds of fast-paced musical passages anticipate an epic musical image of the Artificial Beings song that brings into the progressive musical trends of the album the spicy trends of oriental folklore.
The final composition of the album Fear The Sentinel Sphere! continues the unification of the mystical and man-made spheres, but it is rapidly breaking the drive wave.